Víz
Szinte minden italról (alkoholosról is) el szokás mondani, hogy egyik legfontosabb korlátozó tényezője a készítése során felhasznált víz tisztasága. Klórozott, vasízű vízból nem lesz finom eszpresszó.
Alapvetően három út áll előttünk. Először: ott, ahol a csapvíz megfelelő ízűnek, összetételűnek tűnik, a csapvíz használata. Másodszor, valamely ismert ásványianyag-tartalmú, palackozott víz használata kávéfőzésre. Harmadszor, valamilyen víztisztító eljárás bevetése a csapvíz szűrésére.
Az első mellett kinek-kinek magának kell dönteni, de nem szabad elfelejtenünk, hogy nemcsak a saját egészségünkről és az eszpresszó ízéről van szó, hanem kemény víz esetén – és hazánkban ez a jellemző – a készülék vízzel érintkező részeinek vízkövesedéséről is. A kemény vízzel táplált gépet az előírt időközönként vízkőteleníteni kell, ennek a részleteit a használati utasítás tartalmazza.
A második lehetőség is elég népszerű köreinkben. Sokféle megfelelő összetételű palackozott víz kapható a boltokban, sokan használják például a Verát, aránylag kedvező árfekvése nem drágítja meg számottevően a kávézásra fordított kiadásainkat. A készülék ilyen palackozott víz használata mellett is vízkövesedik, de lényegesen lassabban és kisebb mértékben; azért gondosan figyeljünk oda kedvenc eszpresszógépünk állapotára, és ekkor is végezzük el a szükséges karbantartást.
Akkor is, ha a csapvizünket megfelelő minőségűnek tartjuk, egyszer mindenképpen próbáljuk ki a kávéfőzést ilyen palackozott vízzel is. Könnyen előfordulhat, hogy az ivásra kiváló ízű víz a kávénak mégis kölcsönöz valami mellékízt, amelyet a palackozott vízzel nem tapasztalunk.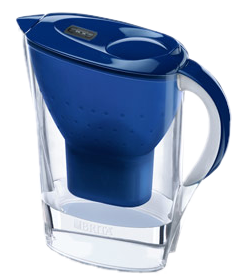 A harmadik megoldás a víz tisztítása. Nem árulunk zsákbamacskát, ebben a kérdésben köreinkben sem honol békés egyetértés. Sokan a Brita kancsó hívei. Ez a többféle űrméretben kapható tetszetős kancsó (ára jellemzően 3-4000 forint) szűrőbetétje segítségével kiszűr bizonyos szennyeződéseket, klórt, nehézfémeket (ólom, réz), bizonyos növényvédőszerek maradványait. Megkóstolva a csapvizet és a Britával kezelt vizet a különbség azonnal jól érzékelhető, és ugyanez a különbség megmutatkozik a kávé ízében, sőt, a teáéban még inkább. Ugyanakkor a szűrőbetét még egy dolgot csinál, és ezt már nem mindenki tartja hasznosnak és egészségesnek: ionokat cserél a vízben, a kalcium és magnézium ionjait lecseréli hidrogénionokra. Akadnak tehát közöttünk, akik mindenféle vízfogyasztásra ezt használják, olyanok is, akik csak kávét és teát főznek vele, inni palackozott vizet isznak (ők mind arról számolnak be, hogy a kávéfőző vízkövesedése gyakorlatilag teljesen megszűnt), olyanok is, akik kipróbálták, de nem tartották kellemesnek az általa okozott ízváltozást, sőt, olyanok is, köztük orvosok, akik eme ioncserélő hatása miatt kifejezetten károsnak ítélik a használatát.
Igazságot tehát nem tudunk tenni ebben a kérdésben, mindenkinek magának kell döntenie, lehetőség szerint kikérve orvosa véleményét is, de a kancsó használatát fontolgatók figyelmét felhívjuk arra, hogy a szűrőbetétet természetesen rendszeresen (havonta) cserélni kell, és ez a kancsó megvásárlásán túl további folyamatos kiadást jelent.
Más cégek forgalmaznak nagyobb kapacitású berendezéseket is, például a Silver Aqua. Ezek között van a fentitől teljesen eltérő, ipari és katonai célra régóta alkalmazott, a fordított ozmózis elvén működő készülék is, de a Britához hasonló működési elvű, csak annál nagyobb kapacitású ioncserélő is.
Több készülékben található beépített szűrő is, ugyanebből a műgyantás, ioncserélős változatból. Ezekbe tehát elegendő csapvizet tölteni, a vízlágyítást maguk elvégzik. A szűrőt viszont rendszeresen (használattól függően, nagyjából havonta) regenerálni kell. Ez elég egyszerű folyamat: negyed liter vízből és három teáskanál sóból (ne jódozott, csomósodásgátló anyagokkal telepakolt sót vegyünk, hanem minél tisztább nátriumkloridot; jó lehet a kóser só, illetve a kávéfőző-alkatrészeket árusító üzletekben kapható sótabletta) készítsünk oldatot, és a szűrőt fejjel lefelé tartva öntsük át rajta az oldatot (felül a szivacsos, nagyobbik fele, amelyen keresztül normálisan a vizet szívja, alul a csőcsonk, amelyhez amúgy a szívócső csatlakozik). Hagyjuk öt percig állni, majd alaposan öblítsük át tiszta vízzel, amíg a keresztülfolyó vizen már nem érezzük a sós ízt. A rendszeres regenerálás mellett egy-két évente nem árt lecserélni a szűrőbetétet, az ára nem jelentős (kapható az Expolygon alkatrészüzletben). Ez a szűrő tehát előnyösebb a Brita kancsónál, mert ugyanazzal a módszerrel lágyítja a vizet, ugyanakkor olcsón regenerálható, nem szükséges bele drágán új szűrőbetéteket venni.
A legegyszerűbb megoldás azonban minden bizonnyal a következő: a víz úgynevezett változó keménységét kalcium- és magnézium-hidrogén-karbonát (Ca(HCO3)2 és Mg(HCO3)2) tartalma adja. Ezt forralással szinte teljes mértékben kiküszöbölhetjük, mert ezek a sók vízben oldhatatlan karbonátok formájában kiválnak, kicsapódnak; az előbbiből CaCO3, az utóbbiból MgCO3, valamint a folyamat során közönséges széndioxid és víz keletkezik. Ezek a karbonátszemcsék a vízfelszínen hártyaként jelennek meg, szűréssel eltávolíthatók, de kávéfőzéshez még ez sem szükséges, hiszen a szintén szűrőként viselkedő kávédarálmányon már nem jutnak keresztül, nem jutnak el az italunkba. Azaz, semmi más tennivalónk nincs, mint a vizet felforralni, majd újra lehűteni.
Ezt megtehetjük egy lábosban is, de a legkényelmesebb megoldás az elterjedt, közismert elektromos vízforraló kancsók használata. Bár a boltok büszkén szokták hirdeti az áru melletti feliratokon, hogy egy forralónak rejtett (fedett) a fűtőszála (és az ilyen változatok drágábbak is), sokkal jobban járunk, ha szándékosan nem ilyet keresünk, hanem az egyszerűbbet, amelynek az alján jól láthatóan ott kanyarog a fűtőszál. Ez ugyanis sokkal gyorsabb és hatékonyabb működésű. Semmi mást nem kell tennünk, mint este felforralni egy kancsó vizet, amely másnapra otthagyva lehűl, így könnyedén pótolhatjuk vele a főzőből fogyó vizet. Ha olyan forralót találunk, amelyben a kiöntőcsőrnél szűrőbetét is található, még az említett hártya sem kerül át a kávéfőzőnkbe.
Természetesen ilyenkor a vízforraló fog vízkövesedni, de azzal aztán igazán nincs sok és bonyolult tennivalónk: havonta, vagy amikor belenézve már vízkövesnek találjunk, tegyünk a vizébe egy kanál citromsavat, forraljuk fel, kihűlés után öblítsük el jól, és végeztünk is. Egyszerűbb már nem is lehetne, ezzel az eszpresszógépet is megkíméltük, és egy ilyen vízforraló általában amúgy is jól jön egy háztartásban.
Vízkőtelenítés
A víz keménységi fokától és a használat gyakoriságától függően minden készüléket időnként vízkőteleníteni kell. Elsősorban a készülék használati utasítása a mérvadó, de szokásos csapvíz és használat mellett a legtöbb gyártó két-három havonta javasolja ennek elvégzését. Az automata gépek általában jelzik, mikor van szükség a vízkőtelenítő program lefutattására, de természetesen ezek a készülékek sem tudják megállapítani, milyen lerakódások vannak az alkatrészeiken, az automatikába egyszerűen be van programozva, hogy bizonyos számú kávé lefőzése után jelezzen.
Hagyományos eszpresszófőzők nem feltétlenül viselkednek egyformán, amikor már vízkőtelenítésre van szükségük. Bemelegedés közben hallható szörcsögő hang, a csepptálcába csepegő víz, a kávéfőzés előtti üres átmosás (csészemelegítés) közben a kifolyó víz viselkedésének változása (fröcskölés, egyenetlen kifolyás), extrém vízkövesedés esetén erősen csökkenő vízmennyiség (a megszokott darálási finomság mellett a kávé jóval lassabban folyik ki, mint általában szokott) mind jelezheti a karbantartás szükségességét.
A vízkőtelenítés elvégzéséhez tartsuk be a használati utasítás előírásait, de szinte minden kávéfőző alapvetően a következő eljárást igényli (legfeljebb apró eltérésekkel). A vízkő leoldásához maga a készülékgyártó és egyéb tisztítószergyártók is készítenek vegyszereket, de a legolcsóbb, legegyszerűbb és leginkább környezetkímélő megoldás a citromsav használata. Ez közönséges élelmiszerboltokban olcsón beszerezhető (élelmiszerek tartósítására használják általában), de ha nagyon nem találjuk, akkor gyógyszertárakban is kapható.
Ecetet ne használjunk! Ugyan az is oldja a vízkövet, de a tömítéseknek nem tesz igazán jót, és nagyon nehéz elöblíteni, mind a szaga, mind az íze sokáig megmarad a főzőben.
A készülék víztartályába öntsünk langyos vizet, amelyben előzőleg literenként két evőkanál (30 ml) citromsavat oldottunk fel. Vegyük le a szűrőtartót (az ritkán vízkövesedik, de ha igen, külön beáztathatjuk hasonló folyadékba), és eresszük át a folyadék egy részét a készüléken egy megfelelően nagy edénybe. Van készülékgyártó, amelyik rögtön a fél tartály kiürítését javasolja, mások csak 15–20 másodperces működtetést írnak elő. Ezután hagyjuk magára a készüléket 15 percre (ezalatt a citromsav végzi a dolgát), majd ürítsük tovább ugyanígy a tartályt, minden alkalommal pihenni hagyva a készüléket. Az ürítés közben ne felejtsük el a gőzölő kimenetet is megnyitni egy időre, hogy azon is keresztüljusson a tisztítófolyadék.
A citromsavas vízzel történő átmosás után kétszer öblítsük még át a gépet, mindkét alkalommal teljesen feltöltve a tartályt tiszta vízzel, hogy a citromsav utolsó maradványai is távozzanak. Még azt is megtehetjük, hogy a tisztítás után elsőként lefőzött kávét nem fogyasztjuk el, hanem kiöntjük (a citromsav nem mérgező, de a limonádés kávé nem valami finom).
Automata kávéfőzőnél, vagy ha a használati utasítás ettől lényegesen eltérő tisztítási eljárást ír elő, természetesen az ott leírtakat kövessük. Ha bizonytalanok vagyunk a tisztítás szükségességében, inkább gyakrabban tegyük a kelleténél, mint ritkábban, mert a vízkövesedés a leggyakoribb meghibásodási okok közé tartozik, és elhanyagolása költséges javításokhoz vezethet.